Ski Mountaineering gear is usually lighter than traditional backcountry gear. In general lighter gear means you can go faster and farther. For races the ISMF 2015/16 rules state that the lowest legal weight for a ski + binding (half pair) is 750g for men and 700g for women and the shortest skis allowed are currently at 160cm for men, and150cm for women.
Bindings: Some sort of super light race binding, they last forever, and they're very dependable for long trips (and racing). Some examples include the Hagan ZR, Dynafit Low Tech Race, Plum Race bindings and Ski Trab race bindings.
Boots: A light, flexible boot makes the difference going uphill fast and ski touring all day. If you practice skiing on lighter boots you'll be surprised how well they ski. Race boots typically weigh less than 850g. Scarpa Aliens, Dynafit PDGs and Dy.N.A. Evos, and the LaSportiva Syborgs and Stratos are some of the most popular. Each company makes a slightly heavier less expensive model and a lighter carbon fiber model that is more expensive.
Skis: A competitive pair race ski should less than 850g/ski as well. Numerous manufactures make them including Hagan, Voile, Atomic, Dynafit, LaSportiva, Ski Trab, Solomon, and others.
If you're on a budget: older model, non-shaped, foam core slalom skis that go for $40 at ski swaps work OK as long as the snow is light. Skintrack.com also provides a great overview and comparison for skimo gear.
---
Places to get Ski Mountaineering gear:
Locally Alpenglow Sports in Tahoe City and Tahoe Mountain Sports in Truckee carry some skimo gear. They can also order anything you need.

415 N. Lake Tahoe Blvd
Tahoe City, CA 96145
(530) 583-6917
Monday-Sunday: 9AM-6PM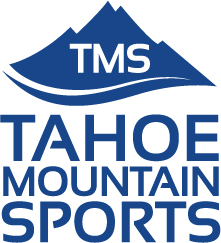 Skimo.co has a great selection of gear on their website as well:

For used gear checkout the following links:
Ebay and Craigslist are also good places to find used gear.